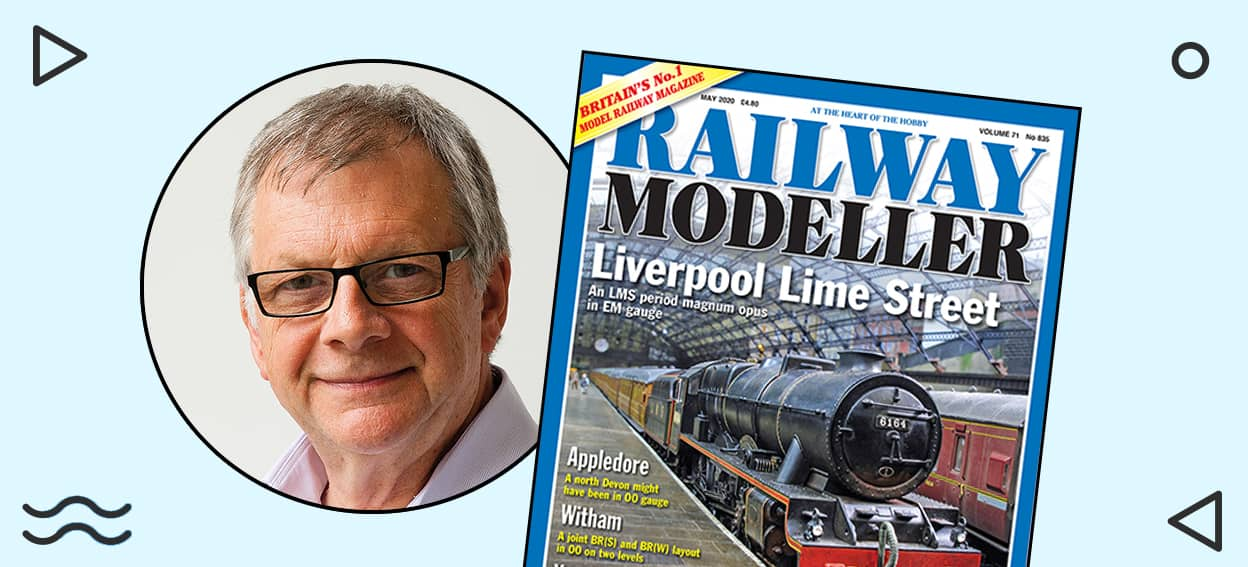 Railway Modeller was first published in 1949, why do you think after all these years the magazine remains the most popular railway monthly?

Railway Modeller established itself in the 1950s as the technical journal for the 'average' enthusiast. Its policy has always been to present a mix of skills and understanding which inspire and inform both novices and established hobbyists alike.

We continue that philosophy today covering all ends of the spectrum; from the basics of laying the track, to the intricate methods of building models from raw materials.

Railway Modeller has also evolved with the times, and as well as our renowned technical articles, we include interviews, exclusive news, opinions and comment, product reviews and behind-the-scenes insights from all corners of the railway modelling world.

Moreover, we aim to be fully diverse and actively promote and encourage involvement from individuals beyond our established demographic readership.

For anyone thinking of taking up a new hobby, why would you suggest that people create their own models? And do you have any tips for beginners?

Railway modelling as a hobby offers everyone the chance to be involved in whatever way suits them. It's about getting fulfilment and pleasure from their chosen way, which might be collecting models for display, building a huge electronically controlled layout, or building kits from card, plastic or raw materials. The only rules are those which you set yourself.

We do encourage people to have a go at making something with their own hands. Being a creative and imaginative hobby, the delight and satisfaction which results, is good for our well being, self esteem and mental health.

Being able to say "I built that" engenders a sense of achievement and an invigorating feel-good factor.

Your December 2019 issue featured the music legend Rod Stewart, who unveiled his model rail city to Railway Modeller magazine. Tell us a bit more about the star's collection. Was this one of you favourite issues to work on?

Well firstly, I like to think that every issue I work on is my favourite issue! But the December 2019 edition was a particularly memorable one.

We were lucky enough to meet Sir Rod in person at his Essex home and conduct a marvellous interview session with him. His amazing layout however is located in Los Angeles, so we weren't able to see his models first hand.

Sir Rod spent almost 25 years building up his railway. His model depicts an American city railroad in the 1940s with the most awe inspiring backdrop of skyscrapers, some over 6ft high, all hand-built by Sir Rod. What is even more remarkable is that many of his models were constructed whilst he was on tour - he would book a second room in the hotels in which he stayed, and in between concerts he would set-to and build his models.





What has been the best railway model you have seen throughout your time as the Editor for Railway Modeller? Do you have your own collection?

This is really difficult to answer, as all models and layouts each have something special and unique, be they huge room-filling set ups, or miniature 'shunting' dioramas.


I always say that if, like a movie or a novel, a model can envelop you in its atmosphere, and take you to the time and place it depicts, then it's got to be one of the best.

I do have a long established collection of models and kits going back well over forty years. I have built and exhibited layouts in the past, but at present with all my creative input going into the magazine, building a new layout, has been very prolonged. The type of projects I currently favour are smaller, fold-away, type layouts, rather than large, permanent set ups, like Sir Rod's.

What can subscribers expect from future issues of Railway Modeller? Why subscribe?

Anyone taking out a subscription to Railway Modeller will guarantee receipt of each issue delivered to their door a day or two before the magazine appears in the shops.

This has been an especially practical option during the current health crisis, where getting to the shops has been difficult and tedious for some, and impossible for others, especially those individuals deemed to be 'at risk' by the government.

A subscription also makes for a great gift - especially for Dads on Father's Day!

Subscribe to Railway Modeller today from just £23 and save up to 31%