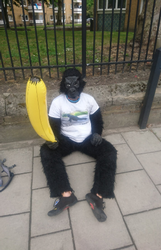 For most people, four hours is a pretty decent score in which to finish the London Marathon – but for Tom 'Mr Gorilla' Harrison, things are a bit different. The 41-year-old policeman is currently half way through the 26-mile route…and has been going for three whole days.

The reason? Why, he's dressed as a gorilla of course! And he's doing the marathon 'gorilla-style' on his hands and knees! Harrison is performing the charitable deed for the Gorilla Organization, and is hoping to raise around £2,000, which is enough to pay for around three months' worth of supplies and salaries for a team of rangers in Eastern Congo.

"It's hard work," he told BBC. "All of my muscles are aching now so I've probably had a few more stops than previous days, but I'm still going forward so that's what matters.

"It's all about raising the profile of the Gorilla Organization and raising money. I don't really matter that much, I'm just a conduit to the gorillas in Africa."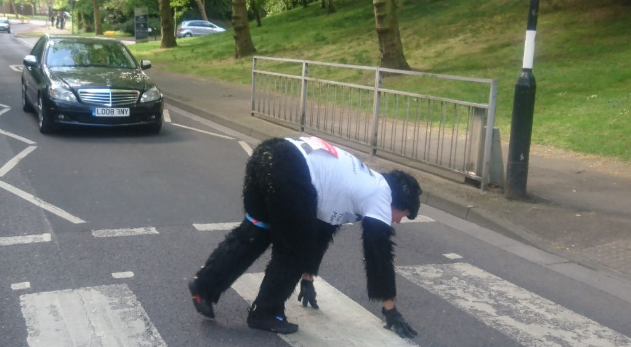 Jillian Miller, the director of the Gorilla Organization, called Harrison one of the charity's "top fundraisers". She called him "one of those incredible people - when he sets his mind to something, he's going to do it."

You can follow the epic great ape-garbed exploits at Mr Gorilla's Twitter page @GorillaSaver, or if you're someone who likes to tackle marathons in a more traditional way, grab a subscription to Great Marathon Runners – and save up to 40% off.

Images from @GorillaSaver