They're one of the most adorable and popular couples of Instagram, and following their difficult and well-documented struggled to conceive their daughter Luna – born April last year – it appeared that John legend and Chrissy Teigen had the perfect life. But last week it emerged that Chrissy had been suffering from post-partum depression, an isolating illness which can cause symptoms like crying or feeling angry more often than usual, feeling disconnected from the baby, excessive worry that you'll hurt the baby and withdrawing from loved ones.
Chrissy begins by revealing the joy that came after the birth of her daughter, but then describes how she felt detached and sad for no reason, and particularly struggled when she returned to work on the show Lip Sync Battle, telling Glamour: "Getting out of bed to get to set on time was painful. My lower back throbbed; my ­shoulders—even my wrists—hurt. I didn't have an appetite. I would go two days without a bite of food, and you know how big of a deal food is for me."
Before adding: "I couldn't figure out why I was so unhappy. I blamed it on being tired and possibly growing out of the role: "Maybe I'm just not a goofy person anymore. Maybe I'm just supposed to be a mom."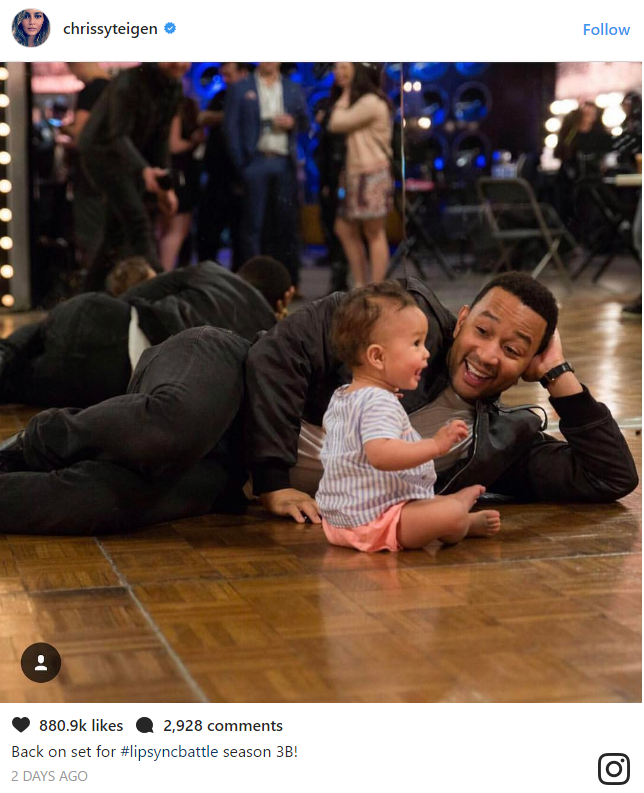 She acknowledged that there are many women who suffer from PPD and don't have the help and support she does, praising John for the love and support he has given her.
Her husband said that he did whatever he could do "to help her", telling People: "[As a man] you don't know internally what it feels like. You should read about it and understand what it is and really just be there to help," he said. "You need to be present and you need to be compassionate. And we're all learning and trying to figure it out as we go. At least do that and try to figure it out together."
To read Chrissy's moving open letter subscribe to Glamour USA.
Images: @chrissyteigen