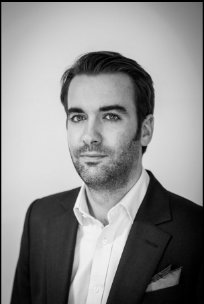 What is the best part of being the editor in chief of Square Mile?
Without a doubt it's the variety of subjects I'm able to cover. Growing up, I always wanted to work for a car magazine, because I'm a bit of a petrolhead. And at Square Mile, I'm able to review some of the coolest cars in the world. But I'm also able to review restaurants, and go on wine tastings, and stay in amazing hotels. Of course, I'd love to say these were part of my day job. The reality is I do all the fun stuff in my free time. The real work gets done in the office - and is sadly no way near as glamorous as I'm happy to let my friends believe.

Square Mile is very much a luxury publication. What is your number one style rule?
Don't blindly follow all the style advice you read in magazines - including ours. You need to know which fashions will suit you and your lifestyle. Skinny jeans and slip-ons might look good on the annoyingly handsome chap in the mag, but if you work in an investment bank, they're probably not the ones for you.

On this month's cover you have the sophisticated Henry Cavill, what qualities do you look for in your cover stars?
I go by the 'pub test'. Is he or she the kind of person that's interesting enough to spark a conversation down the pub. In the case of Cavill, he's a suave, good looking fella who most people would either like to be - or be with! I mean, he's Superman, for god's sake! Also, he stars in Batman v Superman - and that *is* one of life's great pub debates. It's right up there with nuts v pork scratchings and shark v tiger.

What are the challenges of being a magazine editor?
Unsurprisingly, I'm more into words than numbers, so balancing the books and not busting the budgets is a chore I could live without. Securing front cover stars is a more rewarding challenge. Sometimes there is a lot of negotiation that goes on behind the scenes with agents, publicists and studio reps, etc. But when you manage to secure an exclusive interview for the magazine, that's the editing equivalent of scoring a goal.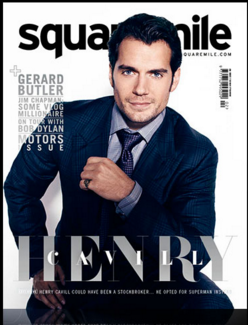 What is your favourite way to relax once an issue is completed?
The same way as when it isn't completed - a cold beer. Or a gin and tonic. Or a glass of wine. OK, a bottle of wine. It all depends on how stressful press day was.

Your magazine covers a huge breadth of topics relating to men's lifestyle, how do you and your team keep up to date with what's new?
With some difficulty. You have to be a sponge, but one with good filters. (Can a sponge have filters?) We're sent thousands of emails a day, and invited to hundreds of events a month - you have to be very efficient at deciding what's important and interesting to the readers - what's worth pursuing for a story and what's worth letting go.

What can subscribers expect from future issues? Why subscribe?
Square Mile is free for those who work in the City of London - it's affordable for us to distribute it within a restricted geographic area. Any further afield, though, and I'm afraid you have to subscribe. We have some really exciting exclusive cover interviews coming up with content you won't be able to find elsewhere. And if you enjoy the finer things in life - whether it's experiencing them or dreaming about them - then we have most bases covered there. We do tackle serous topics, too - including interviews with some of the leading lights of finance and business, and columns written by hard-hitting reporters on issues affecting the City and those working there. Oh, and there's lots of cool cars, obvs.


To keep up to date with the latest in men's lifestyle subscribe to Square Mile