Christmas: a time for mistletoe, mulled wine, and snuggling down in front of a roaring fire surrounded by family and clutching a mince pie in one hand and the newest festive issue of your favourite magazine in the other...



The 2009 cover of The New Yorker played on the recent Republican grumblings after President Obama bowed to the Japanese head of state – a move which his opponents claimed showed undue deference. This cover may well be suggesting that tradition is an important thing to keep – or it could be that even the Leader of the Free World is second to Santa.

Grab a subscription to The New Yorker now for just £67 today.



In keeping with its cutting edge persona, Interview mag's 1972 cover featured the Pope of Pop himself, Andy Warhol, complete with Santa hat, snapping a sideways shot of a beaming Naomi Sims – a woman who was widely credited with being the world's first African-American supermodel.

Keep up with what's hot and what's not with a subscription to Interview today.



Many of the world's biggest stars have featured on the front of Esquire. In 1991, the mag cashed in on the religiously-named-if-risqué Queen of Pop, Madonna, to shoot a cover with the Like a Virgin star clutching a blonde-haired baby in honour of her Biblical namesake.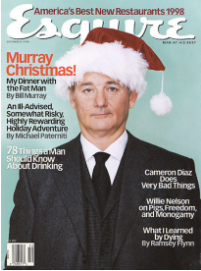 Fast forward seven years, and the mood was less jovial, with the infamously cantankerous Bill Murray staring deadpan from the cover with not a sprig of mistletoe or an inkling of Christmas cheer in sight. Just last year, the former Ghostbusters star would release his very own festive musical short film in conjunction with Netflix and a host of celebrity pals: A Very Murray Christmas.

Grab a subscription to Esquire today – and save up to 39% off.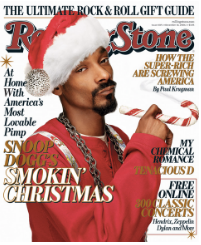 In some parts of the world, it is rumoured that Snoop Dogg is regarded as a figure much like Santa – a mythical being capable of bringing untold joy to the masses. In that respect, then, it makes sense that the 2005 December cover of Rolling Stone was adorned by none other than the Gin and Juice singer himself, complete with festive headwear and a smoking candy cane between his fingers…

Roll into the New Year with Snoop Dogg et al with a subscription to Rolling Stone today.

And if you grab a certain magazine subscription today, you'll automatically beincluded in our isubscribe Christmas Prize Draw for a chance to win £1,000!